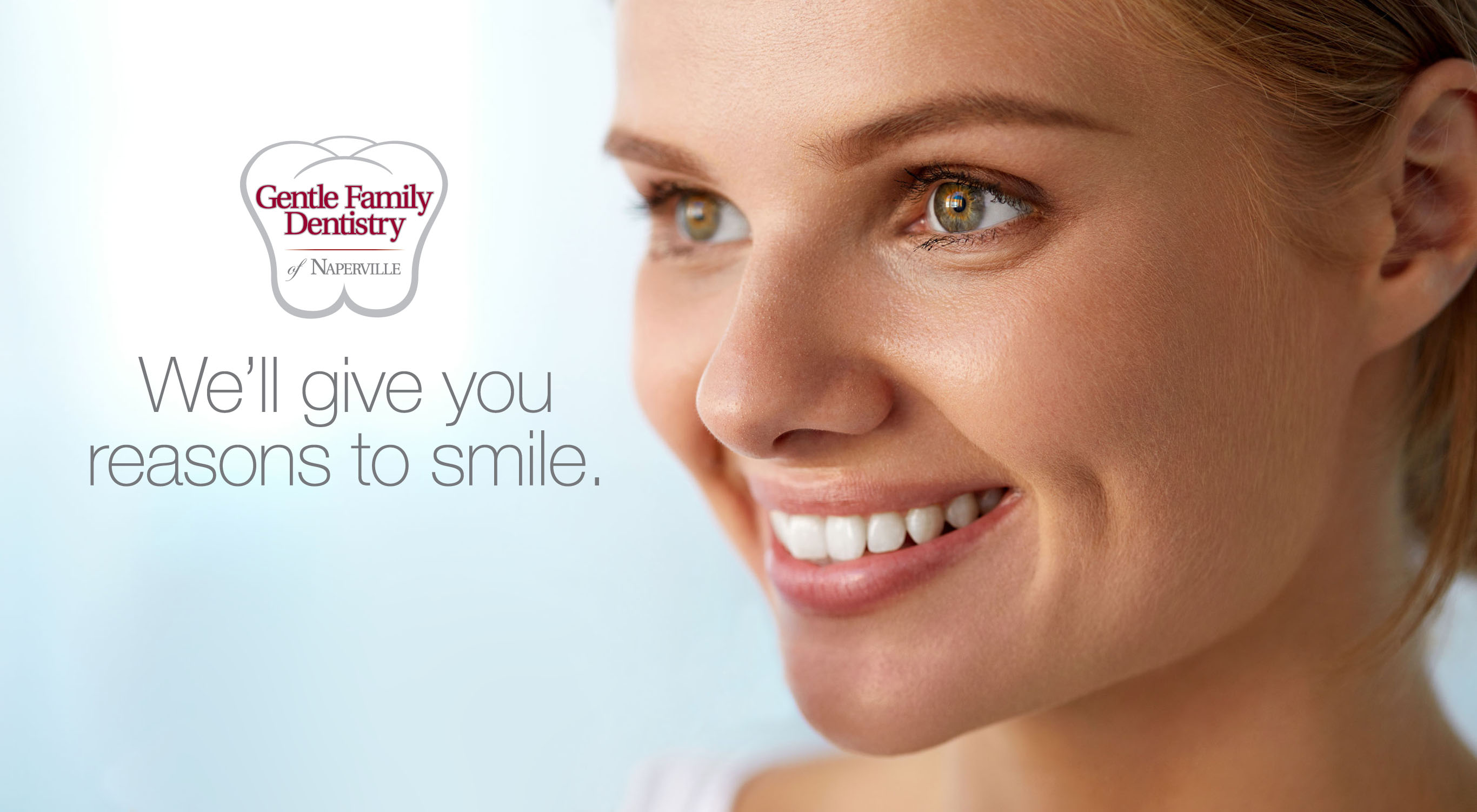 Our team is ready to serve you and your family's dental needs. Contact us to set an appointment.
Set Appointment
Stop by our downtown Naperville office at:
10 E. Benton Ave.
Naperville, IL 60540
See on Map
Call us to set an appointment. Our dentists and staff are ready to help you.
630-355-0100
*We are open two Saturdays per month September through May. We also require a 48 hour notice for any appointment cancellations. Any Saturday cancellations need to be made by 2:00pm on the previous Thursday to avoid a charge to your account.
Your Naperville Dentist Since 1986.
Gentle Family Dentistry was founded in 1986 by a Naperville Dentist, Dr. John Jaeschke. He chose the downtown location at 10 E. Benton Ave, Naperville, when the building became available, and began restoring the historic structure into a modern state-of-the-art dental practice. The dentists and assistants we have on staff are friendly, professional and ready to help your family with your dental needs. We've been here for over 30 years, and are proud to be a part of the Naperville community. From regular check-ups for the kids, to cleaning and whitening, to cosmetic dentistry and teeth replacement, we are a full service dental practice. We're looking forward to meeting you and your family. Click here to Contact Us.
New patients always welcome
We work with your insurance plan
Voted Top 100 Dentists In Chicago
By Checkbook Magazine
Cosmetic Dentistry
All On 4 Dental Implants
From regular teeth cleaning and minor repairs, out team will help you stay healthy and looking good.
In need of a dental bridge or crown? Want veneers? No problem. We can also do all white crowns and fillings.
Our dental hygienists can help keep your mouth healthy, identify periodontal disease and help with sleep apnea.
We're ready to brighten your smile by whitening your teeth, or bring back your look with tooth restorations.
Are you accepting new patients?
Yes we always accept new patients to Gentle Family Dentistry of Naperville.
Do you take my insurance?
We are participating members of these groups: Delta Dental Premier. Cigna PPO and United Concordia Elite Plus. Also, we submit to all insurance companies. Dental insurance policies help with the cost of your dental care. Your insurance plan is a contract between you, your employer and the insurance company. These contracts vary widely. It's helpful for you to be aware of your plan's coverage. As a courtesy to you, our office is happy to file your claim with any other dental policies; in which we are not contracted with. The portion of the bill not covered by insurance is your responsibility.
Gentle Family Dentistry does not participate in Health Management Organizations (HMO). We can only estimate your coverage in good faith but cannot guarantee coverage due to the complexities of insurance contracts. We are happy to send a pre-treatment estimate to your insurance for pre-approval.
Even though we will be processing your claims, a 20% deposit is required for restorative treatment (fillings). Major restorative treatment (crown, bridges, root canals, partial and dentures) requires a deposit of 1/3 of the fee at the initiation of treatment.
We ask that payment be made at the time the service is rendered. If your treatment requires several visits, financial arrangements can be made with our financial coordinators.
Patients without insurance or with insurance plans not recognized by our office are expected to pay for services in full at the time these services are rendered. If you have any questions, please do not hesitate to speak to one of our financial coordinators.
General Information & Emergency Situations
We are looking forward to helping you and your family with all your dental care needs. We are a fully staffed dental office with 3 Dentists and a team of Dental Hygienists, Dental Assistants and Receptionists. Click on the links below to learn more about payments and insurance, office hours, FAQ's and safety & comfort. You can also download our patient forms for adults and children. Stop in our office at 10 E. Benton Avenue in Downtown Naperville or call us at (630) 355-0100.
Emergency Situations
We realize that emergency situations occur and we try to respond to your call as quickly as possible through our 24-hour answering service. Our service will forward your calls to the doctors and your call will be returned.
We follow OSHA & HIPPA guidelines for sterilization, disinfection and privacy for your safety and comfort
Your safety is our highest priority. Our office is equipped with the most thorough sterilization equipment. The equipment is tested regularly to insure sterilization accuracy. We want to ensure the safety of the patient, therefore we ask that only the patient be in the operation room. We are not equipped for babysitting, so we ask that you have babysitting arrangements made for any child that cannot remain in the reception room unattended.
Frequently Asked Questions
These are frequently asked questions and reasons that patients come to see us:
What is scaling and root planning?
Why do I need a crown?
Why does my filling need to be replaced?
Why is my jaw so sore when I wake up?
Why do I have such bad breath?
Why do I need an oral examination every 6 months?
Are oral piercings really worth it?
Feel free to call us at 630-355-0100 or email us regarding these or any other questions you may have. We look forward to talking with you.
We regretfully do not have handicap parking so if there would be any assistance needed, feel free to let us know. We would be happy to help in anyway possible.
We ask that all cell phones be turned off for your visit with us. An uninterrupted visit is most beneficial for both the doctor and the patient.
Services Offered:
– White, composite restorations.
– Sleep apnea devices and bite splints
– Implant restorations
– Crowns and bridges now in all white, metal free Zirconia
– Custom fit sports guards starting at $25 up to $55
– Dental cleanings and exams for the whole family
– Porcelain veneers
– All-On-Four dental implants
– Dental sealants
– Nitrous Oxide is available for your comfort
Please call us for more information (630) 355-0100
Professional dentists serving all of your dental health needs.
Testimonials
''Our family has been with Gentle Family Dentistry for 30 years and we have always found their hours convenient, the staff friendly and helpful and the service superior.''
Linda K.
''Gentle Family Dentistry is very concerned about your well being and makes sure you are at ease and comfortable.''
Shirley K.
''I used to dread going to the dentist until I found Gentle Family Dentistry and Dr. DeFilippis. Now I look forward to my six month appointments! The staff is friendly, environment is comfortable and for the first time in my adult life I enjoy the dentist''
Rebecca C.
''I would refer, and have referred patients to the Gentle Family Dentistry practice. My care has always been outstanding. The people at the front desk are always helpful and friendly. The hygienists are excellent and also very friendly. I have had care from 2 of the dentists. They were professional, kind and informative. Again, I would refer patients to the Gentle Family Dentistry practice.''
Karen R
''My kids represent the fourth generation of my family to be cared for by Gentle Family Dentistry. They are the happiest and most sincere group of professionals you will find. I highly recommend them!''
Mark K from Batavia, IL
Our Accepted Insurance Plans